This post may contain affiliate links. If you buy thru these links, we may earn a commission at no additional cost to you.
---
Getting a lower credit card rate may be easier than you think.
You just need to know what to say when you call your credit card company.
Following is a great script. It's been proven to work.
Now you know exactly what to say when you're asking for a lower credit card rate!
Lower Interest Rate Phone Script
There was a report on the local news (WSMV in Nashville) showing how people were able to get immediate results — much lower credit card rates — simply by using a very specific "script" with credit card companies over the phone.
Turns out, the actual words that you say are the most important factor in your getting a lower credit card rate.
So it's in your best interest to use this script to get a lower interest rate on your credit cards.
Here's the script…
Hi my name is [your name].

I am a good customer, but I have received several offers in the mail from other credit card companies with lower annual percentage rates. I want a lower rate on my credit card.

What can you do to help me?
If they say they can't help, or if they offer a rate that's not low enough for you, ask:
Is that the best you can do?

 
If that's the best they can do, and it's still not low enough for you, then ask:
May I speak to a supervisor please?

 
…Then repeat the same script with the supervisor.
The experts say that your chances of getting not only a lower rate, but a rate that you will be happy with are quite good!
Dave Ramsey's Tips To Get A Better Interest Rate
I saw Dave Ramsey on the CBS Morning Show today and he said "the average rate is 14.5% right now".
The rest of what he said (paraphrased): If you have been a good customer with a particular credit card company and you have a rate higher than that, then you should call and ask them to take your rate down to around 10% or you're going to move your credit card balance elsewhere. Chances are, they'll offer you a rate that falls somewhere between 10% and 14.5%. If so, take it!
 Here's more from Dave Ramsey on CBS this morning, including the video.
Before You Make That Call…
Some things to keep in mind before you make that call to ask for a lower credit card interest rate:
Other Scripts For Getting A Lower Credit Card Rate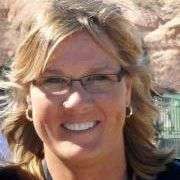 With input from Financial Advisors, (a Tax Accountant and an Investment Manager), I share helpful tips regarding money and finances — including debt relief, insurance, budgeting, and investing for retirement. My goal is to help you save more, spend less, and invest for the future by sharing honest, tried & true budgeting tips and tools. When I'm not saving for the future and helping others save for theirs, you can find me at the corner of Good News & Fun Times as publisher of The Fun Times Guide (32 fun & helpful websites).