This post may contain affiliate links. If you buy thru these links, we may earn a commission at no additional cost to you.
---
If you're wondering…
What's the average mileage for my vehicle?
Are other drivers actually getting the mileage that's posted on the window sticker?
How is gas mileage determined anyway?
How can I track my gas mileage online for free?
Where's the lowest-priced gas in my neighborhood?
What's a FUN way that I can "play along" and help other drivers by sharing my own experiences?
…then you're definitely going to enjoy this 2-part article, including highlights about two cool websites:
Jeeps Have The Worst Gas Mileage, Right?
I was simply planning to update this article with the sad fact that our Jeep Wrangler Unlimited only gets 18 mpg (city & highway)… when I noticed an April 2005 article in Consumer Reports that showed several SUVs get even LOWER gas mileage than our Jeep!
Before this, I thought our measly 18 mpg was bad, but now I'm not so sure.
Gas Mileage For All Makes & Models
Believe it or not, after researching what other four-wheel drive SUVs get, I found that our Jeep Wrangler Unlimited beats the MAJORITY of other 4WD SUVs when it comes to gas mileage!
In fact, of the 68 different models of 2004 4WD SUVs from 33 different manufacturers, only 12 get BETTER gas mileage than the Wrangler — according to the advertised fuel economy ratings.
YourMPG Tracks Actual Drivers' Gas Mileage
Perhaps the best way to find the "real" miles per gallon that your vehicle should get, is to check out YourMPG — a database of real world gas mileage, as reported by actual drivers.
Just by registering with YourMPG (it's free), you can save your miles per gallon info for as many vehicles as you own — all in this one location. Then, it's easy to view, track, or update it later.
You will also be able to share your miles per gallon with others — a great service for anyone looking for the "real" mileage obtained by a particular vehicle.
People Are Talking About Gas Mileage
There are two popular forums where people are sharing stories about the gas mileage they receive:
Edmunds Townhall — To date, there are over 1,000 individual comments regarding SUV gas mileage alone!
GasBuddy.com — Choose your state, then your city, and you'll see a Message Forum filled with people from YOUR area chatting about gas mileage, fuel economy, and gas prices.
Cars With The Highest Gas Mileage
So, what would it take to get you to switch to a Hybrid vehicle?…
Here's an interesting finding:
The current high-mileage champs are the Honda Insight and Toyota Prius, both averaging around 70 miles per gallon. At the other extreme of the scale lies the Ford Excursion, with around 12 mpg. Compare the statistics. With gasoline at $2.00 per gallon, and the average driver traveling around 15,000 miles in a year, the Insight's gasoline bill would be $428.00 for the entire year, while the Excursion pays a whopping $2,500.00."
…I knew Hybrids got better gas mileage, but 70 miles per gallon?!
That's worth considering.
But wait, there's more!
It looks like there's a 250-miles-per-gallon Hybrid on the horizon.
Here are the pros & cons of owning a Hybrid vehicle.
PART II: GasBuddy Reveals Lowest Gas Prices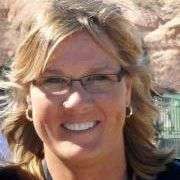 With input from Financial Advisors, (a Tax Accountant and an Investment Manager), I share helpful tips regarding money and finances — including debt relief, insurance, budgeting, and investing for retirement. My goal is to help you save more, spend less, and invest for the future by sharing honest, tried & true budgeting tips and tools. When I'm not saving for the future and helping others save for theirs, you can find me at the corner of Good News & Fun Times as publisher of The Fun Times Guide (32 fun & helpful websites).