This post may contain affiliate links. If you buy thru these links, we may earn a commission at no additional cost to you.
---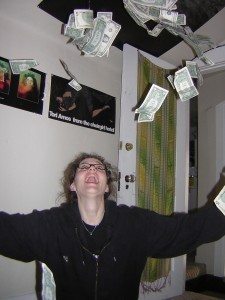 Did you know there are student loan options that have nothing to do with your credit rating?
While you would have had to be very busy to ruin your credit before even starting college, it can still happen.
This is especially true if you take a few years off before going to college.
Regardless, there are student loan options that will get you through college in spite of your previous credit blunders.
No reputable lender willingly advertises loans to borrowers with bad credit. However, "bad credit" may refer to borrowers with little or no credit history as much as it may apply to those with poor credit records. Student loans that require no credit check are extremely limited. Source
Here are some bad credit student loan options that you should look into…
The Stafford Loan is a federal loan that's based on your need, not on your credit rating.
To apply for a Stafford Loan you must first fill out a financial aid form (FAFSA) because your school must determine that you have a financial need.
You must be a legal citizen or legal resident of the United States, must be accepted into a college and enrolled (or plan to enroll at least part time), and must not have defaulted on a previous student loan or owe any refunds from a previous education grant.
The Stafford Loan is issued directly to your school, and you need to reapply each year.
The Perkins Loan is a federal loan that is awarded through your school.
You may receive a monetary loan or work study job based on eligibility.
Loans are awarded based on need and the program you are enrolled in (such as a teacher certification or professional credentialed program).
Past payment history on previous student loans is taken into account before awarding a Perkins Loan.
In selecting Perkins Loans recipients, a school must consider evidence of a borrower's willingness to repay the loan. Previous delinquency, default, or other failure to meet repayment obligations on a previous loan is evidence that the borrower is unwilling to repay other loans. Source
Loans For Disadvantaged Students
There are several smaller loan programs that give money to students going into certain medical fields.
One example is the Nursing Student Loan. Approved students receive low-interest rate loans in order to complete their degrees. Participating schools select recipients and determine the amount of aid the student needs. To apply for this type of loan you must attend a school that participates in this program. You must also be from a disadvantaged background, and you must be a legal U.S. citizen or resident.
Another example is the Primary Care Loan which is for students who are training to be primary care doctors. Medical students must enter and complete residency training in primary care within 4 years after graduation and practice in primary care for the life of the loan. Your school determines your eligibility.
Let's not forget the availability of scholarships and grants which give you free money for college based on need.
Students must be able to demonstrate financial need and (for some loans and grants) meet specific criteria.
Needy students should always start with the Federal Pell Grant when looking for money for college.
More tips for getting a student loan when you have bad credit.
The most important thing you need to know is how to avoid scholarship scams and high-interest student loans that take advantage of poor and underprivileged students. Clue #1 that you are dealing with a scam is that money is being requested up front before you receive the information. You should never have to pay any amount of money to get a loan, grant, or scholarship.
More Student Loan Options For Those With Bad Credit
I have been a certified tightwad striving for financial freedom since I became pregnant with my first child — and I decided to find a way to stay home with him full-time. I enjoy sharing my personal experiences in my journey back to financial health and planning for a future — which will include sending 2 kids to college and early retirement.