This post may contain affiliate links. If you buy thru these links, we may earn a commission at no additional cost to you.
---
Perhaps your child's college fund was eaten up in bad investments. Maybe your savings plan didn't pan out as you hoped it would.
Or perhaps you never had any money to save in the first place. Regardless, if you want your child to go to college — and your child wants to go to — it can be done.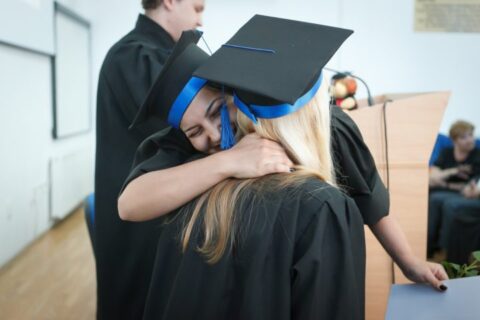 Here are 8 great options when you can't afford college…
#1 – Apply For Grants & Scholarships
If you literally do not have the money to send your child to college, then you can apply for need-based grants and scholarships. Here's how to maximize your chances for need-based grants or scholarships.
Here are the best websites to check for scholarship availability.
#2 – Visit The Financial Aid Office
You can apply online for Federal Student Aid. You should also visit the financial aid office at your child's chosen school and look into work-study programs and private scholarships given through the school.
Here's how much you can expect to receive from Federal Student Aid.
#3 – Check Out Work-Study Programs
Speaking of work-study, you and/or your child can work and pay as they go. Many colleges will work out a payment plan with the parents. They will send out a monthly or quarterly check to help you cover college expenses.
Here are the most popular work-study programs in college.
#4 – Contact The College Board
You can go to The College Board for help with paying for college. They help with college prep too — like taking college entry exams.
Here are the best ways to apply for funds through the College Board.
#5 – Extend Your Enrollment Past 4 Years
You may want to recommend that your child do what I call the 5-year plan. If the bulk of the responsibility to pay for college is on the student, perhaps they should take a few semesters off along the way to focus on compiling money to pay their way through. In addition to having an education when they finish college, students who take this approach will also have the experience they need to land a good job. I didn't come up with this idea on my own.
A friend of mine went to Northeastern University in Boston. There, students participate in a co-op plan where they work paid internships in their field in order to defray their college costs. Even if your chosen college does not offer such an opportunity, if you put your head together with a student adviser, they may be able to guide you through a similar process. Many students take off a semester or two for personal reasons. What more personal reason could there be than to raise money to pay for it?
Here's some information about the 529 college financial plan.
#6 – Get An On-Campus Job
The Family Education website has some helpful information and tips for working your way through college. As an example, here are some of the best money making jobs you can find on campus.
Here are the 13 most popular on-campus jobs for college students.
#7 – Consider Taking CLEP Tests
Another way to cut college costs is to test your way through college using the CLEP tests. Students can take CLEP tests through The College Board. The best part: they can begin taking CLEP tests while in high school. Taking CLEP exams saves a great deal of time and money — because a $80 test takes the place of a course that can cost several hundreds or thousands of dollars, depending upon the school. In fact, if you combined the work-through-college option (#5 above) and the CLEP tests, your student could graduate on time even with taking a few semesters off to work!
Here's how taking the CLEP can keep you from owing college loans.
#8 – Look Into Uncollected Student Funds
The last thing you should remember is that you need to continue seeking financial aid beyond the freshman year. Many grants and scholarships that are not directed at freshmen go unused every year because students don't realize that money is available to them. Two places to look: Fastweb and Scholarships.com.
Here are more facts about how you can find unclaimed scholarship money.
I have been a certified tightwad striving for financial freedom since I became pregnant with my first child — and I decided to find a way to stay home with him full-time. I enjoy sharing my personal experiences in my journey back to financial health and planning for a future — which will include sending 2 kids to college and early retirement.